How I Fell Into Fell Running
It all started, as is often the case, at a party. The party in question was the annual CHECC forum/piss-up in late November, which is always one of my favourite weekends of the year and generally a time when I like to let go. During the height of Friday night's antics, a brief lull saw a few of us assembled outside considering our next moves. We all commented that K Brook wasn't here, and that if he had been he would certainly have been performing splendidly by now.
'He never does anything fun these days does he?', said Emmott begrudgingly. 'He was meant to be running this race with me in January but he hasn't committed.' (It must be pointed out that such commitment cannot be expected from K Brook in any case).
'Rob, do you want to run a race with me?'
'What's this race exactly?'
'You run all through the night at the end of January on the fells in North Wales.'
Emmott Baddeley is a very good friend of mine who I had been to a lot of parties with and been with on some great caving trips since we met. Despite having had a lot of fun (or perhaps because of it), we'd never really suffered in one another's company before (apart from when Emmott got stuck in Large Pot entrance, for which I take full responsibility). I was not a runner by any stretch of the imagination: I didn't have the shoes, I didn't look the part and I didn't live in Sheffield. This sounded like a different level of discomfort with which I was not familiar.
But it was CHECC, I was having a great time and anyway, Lydia and Olly were doing it too apparently and they weren't runners either. I like new challenges. Anything felt possible.
'Fuck yeah, why not? Dark, cold, miserable… basically caving anyway, right!?'
And thus the merriment continued and I proceeded to forget all about the foolish engagement to which I had signed up.
Sunday morning came around, after a long Saturday night of raving and the trees and lights being wavier than usual. I was somewhat the worse for wear. Emmott came up to me having just finished helping with breakfast.
'Rob, Olly and Lydia have just come back from a run.'
Run. I'm meant to be doing that now. Shit. Lydia had also been helping with breakfast, which meant she had been awake since I went to bed at half 5. In my fragile mental state, this knowledge provoked extremely troubling thoughts. How had Lydia and Olly got ahead of the game so quickly? Why hadn't I gone for a run yet? Were the trees still waving at me? I started to help clean up to take my mind off it all.
KBrook: the man who started it all.
---
We had two months to get ready. I had to get some suitable shoes. Luckily, my friend H, who is really good at running, sorted me out with some decent ones. Inov8 Mudclaws. As the name suggests, they are designed for negotiating muddy terrain.
We decided that we would go for a 'testing the water' jog around the High Peak in a weeks time just to check we were all up for it before coughing up the whopping £75 to enter. (Yes, this is a lot of money that I would never usually dream of paying just to run all night, but apparently it was the last year of the event so might as well do it once). At the pub, I started telling people I was doing a race. Among them was Alex Burton-Johnson aka BJ, a man with a notorious laugh and a lot of entertaining stories about falling asleep at inappropriate times. Also a field geologist for the British Antarctic Survey who has done a lot of polar trips, BJ knows a bit about being cold.
'So, you're doing Dark Mountains are you?' (Dark Mountains was the name of the race).
'Hopefully yeah. Never really done running before so we'll see how it goes.'
'Well, you've picked a good place to start.'
'You've done it then?'
'Yeah, did it with Holmes. Got hypothermic, had to sit in the group shelter for a while till I stopped shivering. You'll be fine though, head down and power through.'
Imagining myself attempting to run in temperatures that got BJ hypothermic struck me with a sizeable fork of fear. This man had reportedly walked up a hill in the Lakes in a blizzard wearing his interview suit (cavers, or at least the ones I know, only wear suits to interviews) while everyone else was wearing winter gear. (In a show of sympathy, his companions had proceeded to throw an egg at him at the top before descending). And as for Holmes, if you imagine a shepherd from a remote corner of the Karakoram who is able to mistake parafin for gin and still speak after a large swig then you'll have an idea of the kind of characters who previously found this race a challenge. Stupidity and resilience in equal measure.
To say I was not filled with confidence would be an understatement, and I'm not known for a lack of confidence.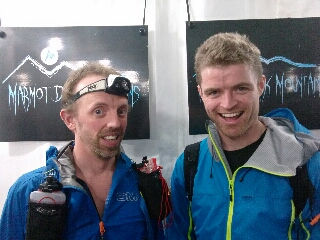 Holmes and BJ on the start line of the 2020 race. BJ has his classic shit-eating just-about-got-away-with-it grin on. Wonder why that is?
---
After some cragging at Stanage followed by a pleasant evening trip down Nettle Pot with Olly, Leo and Harlow the day before, I set out for the TSG with Olly from Sheffield. I had a feeling of nagging trepidation, accompanied by the irrepressible excitement I always have for days spent in the outdoors. It was a beautiful morning: the air was crisp and the sky showed signs of staying blue, although the sun was threatening to hide behind descending cloud the closer we got to Castleton. The fell had been absolutely baltic when we emerged sodden from Nettle the night before and this memory certainly added to my unease at the thought of running in what would probably be much more hostile conditions come the eve of the race itself.
We set off after inevitable faff at the TSG, and made our way up towards Hollins Cross after Lydia somehow got us stranded on the wrong side of some barbed wire fences. We then headed down into Edale, where, due to the earlier faff, we found ourselves low on time before Lydia had to be back in Castleton for work. We decided to forego the ascent of Kinder and instead headed back up to Lose Hill, then down into Hope and along the river valley to return to Castleton. Warming down in the hut felt good, and I learnt how to stretch after running, a very important skill. I was pleasantly surprised to find that my ankles, which had been worrying me after proving to be quite weak in the past on descents, held up excellently in the new shoes; no pain at all. Turns out that having good grip is quite important.
After demolishing some top pastries from Peveril Stores, we returned to Sheffield. It was the last day to get the 'early bird' entry price.
'So, we gonna do it then?', said Olly.
A brief silence.
'Guess we have to really', replied Emmott, not sounding especially sure.
But five minutes later we had all received emails. 'Marmot Dark Mountains - entry confirmation.'
Committed.
---
Over the next month, I did a few pretty minging caving trips. Bye George Pot and the Misty Mountain Series round trip in Easegill was among these, and was far shitter than anticipated (Lydia turned back after nearly losing a nipple on an intimidating double bend, the Back Breaker), but at least George seemed to suffer more than me. Then there was Boundary Pot to Mistral, where Nathanael's oversuit lost its legs and he ended the trip with his new Rab salopettes in ruins. These excursions allowed me to remember what being cold was like (important mental preparation for running on Welsh mountains on dark January nights). Olly, Emmott, Lydia and I even did some running together again, and it felt like we were getting faster and fitter despite the infrequency and other life distractions we each had. A particularly memorable event was on New Years Day when we ran up Calf Top from Bullpot Farm after boozing until 5am; my bowels were extremely unhappy after the steep incline and ensuing descent back into Barbondale, and I had proceeded to empty myself under cover of a bridge, but the frosty morning views of the Lakes, Howgills and Morecambe Bay had more than made up for this. As race day approached, we discussed our preparedness.
The infrequent jaunts we had been doing and the runs I'd done with Ian Peachey had convinced me that the running side of things would not be a problem. For me, the hours adding up seems to make little difference to me physically or mentally; in the words of Javed Bhatti, 'it's all about managing the mental landscape', ie being happy with being miserable for a bit (or for a long time in the case of Javed). I was confident that Emmott would also be able to maintain psyche when 4am and shivering came around; happy days.
The real uncertainties from my perspective were the weather, what gear we had to carry, and food. No point worrying about the weather: it would either be good or it wouldn't. Navigation in poor weather was not one of my strengths (no GPS devices allowed), but Emmott seemed to know what to do so my responsibilities for this were mostly discharged.
The Dark Mountains Marathon was part of a series of Mountain Marathons in the UK, which meant to be allowed to race you had to carry certain required kit. The list was exhaustive: obligatory gear included a personal survival bag, group shelter, sleeping mat, sleeping bag and tent. Rather overkill for a race where you were hoping not to be sleeping at all. And you needed these things to be as light as possible, meaning they would be expensive. However, this is what friends are for. Particularly friends like K Brook and Nathan Walker who have obsessions with gear and work/have worked in outdoor shops. I'm quite good at rucksack tetris, and easily convinced myself I could fit everything in with room to spare for food and water.
This was my main concern. I usually don't eat in caves, and if I do I rely on some sugary rubbish like flapjack to get me out and then have a proper meal (usually consisting of vegetables and lentils, which I much prefer to chocolate). However, I found that not only did I need fuel after only a couple of hours running, but my stomach was left feeling very unsettled and uncomfortable (see New Years Day), a feeling I had never had before from doing other endurance things like cycling. Having the right food could be critical to preventing a complete bonking. After seeing a lot of internet talk about calorie calculations and other nonsense, I was relieved when H (who would be running the elite category at the event) told me that her and her partner Chris ate 'proper food' (potatoes, cheese wraps, nuts, boiled eggs) when they were running. 'Eat stuff you want to eat that can sustain you but isn't too heavy.' Sounded good to me: we had a plan.
Planning and packing race gear: the borrowing list (thanks to all who provided) and the finished product.
---
I had started a new job in Dublin in January, so the logistics of ensuring all my gear arrived at the race had to be placed in other people's hands. I kept my new shoes though. A run in the Wicklow mountains with my friend Neil, his mate Rhys and Fresh the dog a week prior to the race put my mind totally at ease and the crisp morning views from the top of Djouce were a complete joy. The day after a dawn ascent of Lugnaquilla, the highest hill in Wicklow, capped off an excellent weekend.
Beautiful sunrise over Lug with Hugh and Emily. Hugh's 8th attempt at summiting in good vis, and my second after a wet and windy day out with my Dad in December 2018.
Race day came; up at 6am to cycle to the ferry port. Emmott had kindly agreed to pick me up from Bangor train station at lunch time. The forecast had not been great, but was improving. After a shop stop to stock up on a few final things, we headed down the coast to a little-known spot that my family has been visiting since my mum was a kid. It was great to walk up the Roman Steps at Cwm Bychan and feel the wind on my face once we had reached the col. The weather was overcast but very calm considering the forecast and all the apprehensive feelings I had about the race were now suppressed. What was the route going to be? Would we get very lost? Would we find any of the checkpoints? None of it seemed to matter and we were both in a state of tranquility as we packed up for the last time and drove off over the hills and far away. The knowledge that Emmott had packed the best trail mix ever, with chocolate coated almonds and brazil nuts, lumps of fudge and stem ginger, all the seeds and copious dried apricots, pineapple and banana, was making me positively relish the thought of 3am!
After arriving in Bala we stopped for chips. The portion size was substantial. I enjoyed listening to people speaking Welsh and noticed a lot of middle-aged skinny men and women milling around wearing Salomon trainers. We pulled into the car park at around 6pm and shortly after Lydia, Olly, Louisa and Miriam arrived. Emmott promptly nodded off while the rest of us headed over to the mess tent where the other entrants were located, of whom I knew a surprising number. A strong Cardiff caver showing; reassuring and nice to see. There was a great deal of commotion. BJ and Holmes were meant to start at 8:15pm. BJ was not here yet. It was 7:30pm.
'It's alright, he's probably fallen asleep in a layby.' Holmes was the only person taking a relaxed approach to BJ's delay. At 8:00pm, BJ showed up, laughing manically and clearly very pleased that he had caused such a stir.
Although we were all running at the same event, we wouldn't all be running the same race. Two variants of the race were occurring the same area of the map. Runners in the 'Course' events followed a pre-determined route which they tried to complete in as short a time as possible. There were four course categories (C, B, A and Elite), ranging from 30 - 50km. The other event was the 'Score' race, which we would be doing, whereby you visited as many checkpoints as possible and clicked them with a buzzer thingy on your wrist, thereby heralding an addition to your score. Different checkpoints were worth different amounts, so some strategy is required to get the best score possible in the available time. And if you exceed your time allowance, significant points penalties are incurred. Although you could look at a map of the area before starting, these maps didn't have the locations of checkpoints or the course routes on, so you only knew exactly what you were up against once you had started. I really liked this concept; more of a test of general mountain sense and ability than 'who has the most time to prepare.'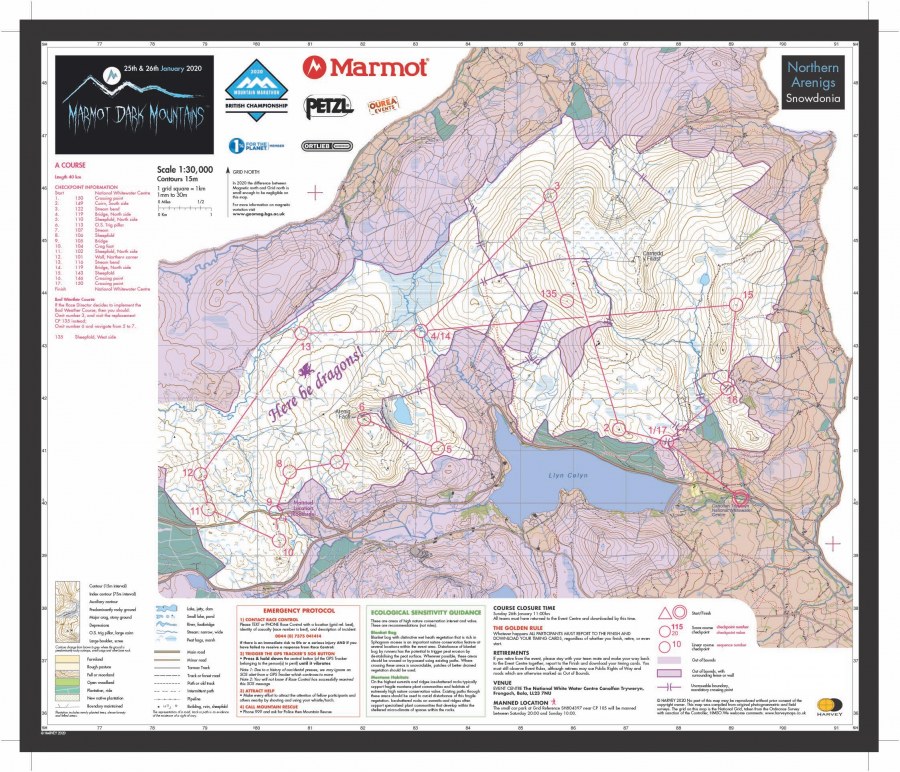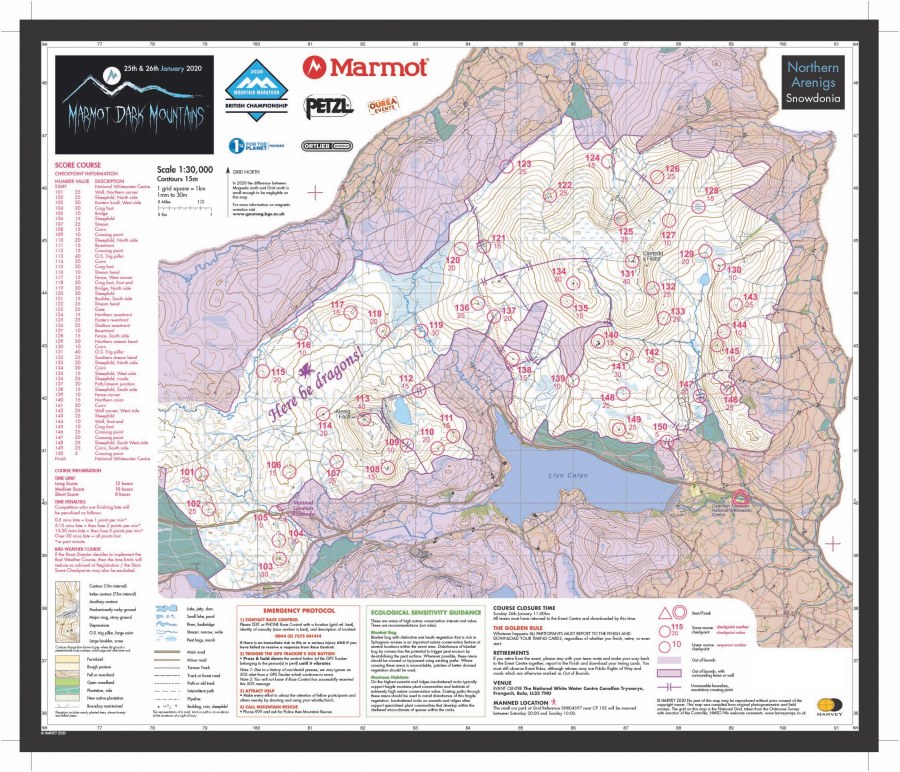 Comparison of the Course map for the A category (top), which BJ and Holmes were doing, and the map for all the Score courses (bottom). The course map shows the shortest distance between the checkpoints, which must be visited in number order. For the score event, the numbers represent the score awarded for visiting that checkpoint. The column of writing to the left contains descriptions of each checkpoint.
Entrants departed depending on the amount of time it was expected they would take to complete the course. Mim and Louisa were doing the medium score, so had 10 hours. They departed around 8:40pm, after manically stuffing their bags with cadbury creme eggs and cake. Since we were running the shortest variant, we would set off nearly last, at 10:40pm. Ages to get ready, we thought. At 10:10pm, we wondered over to the mess tent to register to start.
'You haven't registered? It's just closed,' said the registration man. 'It was scheduled to close at 10pm.'
Shit. I was convinced it was 10:30pm. Luckily, the guys on registration were understanding and got us signed up. The organising team were spot on throughout the event and did an excellent job. Lydia and Olly were out before us, and we witnessed them receive their map and, after a very brief discussion, begin snaking away on the path out to the hills.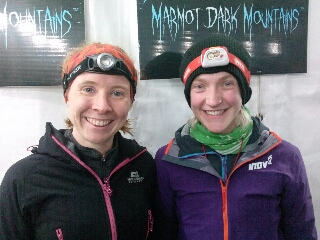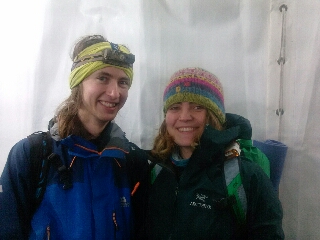 Happy racers: Louisa and Miriam, left; Olly and Lydia, right.
We were almost the last ones out. Lining up at the start, I was pretty buzzing with anticipation, mixed with the effects of the strong espresso we had brewed an hour before. Before we knew it, we heard the three beeps that indicated it was time to start.
We were off.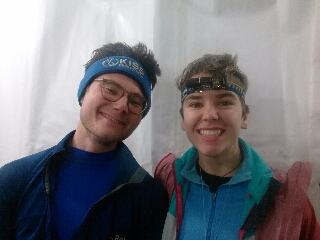 Emmott and I after registering in a panic (note lack of official race sign in the background for us and Olly and Lydia's pictures).
---
Sitting down on the floor, a plan for our route was concocted. We decided to take all the most easterly checkpoints first and then see where we were at time and energy-wise. We set off along the small road, following the signs that guided you to the entry point to the fell. Passing a few pairs gave us an initial moral boost; always nice. After the first obvious checkpoint was passed, we briefly saw Lydia and Olly, who seemed a bit disorientated. No time to linger though; we continued past an old farmstead and crossed a small stream, and began heading up the other side of the valley. We were moving surprisingly swiftly over the steep slope, thick with dead bracken and sharp heather.
The weather was extremely settled and the sky amazingly clear given the forecast. It was quite an incredible feeling looking out across the hills and seeing the twinkles of stars above the horizon and pinpricks of torchlight dancing along it. Feeling like you were part of something, where you couldn't identify any one individual but felt connected to them through the darkness. We passed over a summit and hit a trail briefly, flying down the side of the ridge. We were doing it!
The first six checkpoints were ticked off with no navigational hitches at all, quite incredible considering our lack of practice. Or rather, my lack of practice. Emmott seemed to have a magnet in their brain that prevented any diversion from the correct path. It was pretty inspiring to behold and I felt very lucky and slightly ashamed at the lopsidedness of our abilities. After some difficulty with a minor checkpoint hidden behind a cairn (this was to become a theme of the event), the next one was located with amazing precision and we rewarded ourselves with a drink and some food. By now we were just under 2 hours in and moving well, so we decided to next head back across the valley and up the big hill to the west to a 40-pointer (high score).
We arrived after a brief spell of rain and some uncomfortable slogging and snacked a bit more. Feeling strong still, we decided we could pick up a few more stations to the north before making our way back to the start (we sacked off the half of the race area that said 'Here Be Dragons': did not sound inviting). A nice flat section followed, but the terrain underfoot was deteriorating rapidly, becoming wetter and colder with lots of hollows waiting to snap your ankles off. The first test for the waterproof socks I had bought was about to start. The next checkpoint was difficult to locate: we were lucky to have approached it from below instead of from above as it was hidden midway down a steep valley behind some rocks. Lydia and Olly told us afterwards that they had spent a lot of time not finding this, which slowed them down quite a lot. The checkpoints themselves were marked with little orange tents that were hard to spot until you were basically on top of them. Incredible effort by the organisers to set them all out as well.
Downstream towards checkpoint 122, the ground became wetter and wetter. Still, I enjoyed the morphology of the stream, and began trying to estimate the sinuosity (wiggliness), quite tricky in the dark. The checkpoint was located in a small side-valley, where we put more layers on and ate a cheese and pickle sandwich. A very spritely pair hopped down into the hollow, and we had a quick back-and-forth about where we had each come from and where we were going.
'We were thinking of heading to 122 next.'
'Yes, it's a nice jaunt to 122. How was 125?'
We learnt afterwards that this pair had been Clare Dallimore, one of the Cardiff cavers, and her partner Mark (he called her 'darling' so this is an assumption). They were doing the Long Score event (12 hours), and won, achieving nearly double our final score. Good effort, will need to actually train to try and do this well.
Some photos from Clare that I found on Insta conveying what you might expect to see during the race (since Emmott and I failed to take any): mostly a folded map, your running partner and a weakly lit-up marshy floor. The little thumb compasses are pretty nifty, might need to get one of these!
---
By this time we were starting to get a bit tired and cold. Shortly after leaving 124, we became convinced that Emmott hadn't 'tapped' the buzzer thing at the checkpoint, so returned (both team members need to check in for the points to be awarded). Once there, we realised that we had in fact both checked in first time round. Little cracks starting to show.
Emmott then proceeded to fall into a hole up to the waist which was full of water. My feet were fully saturated and devoid of any feeling by this point. Getting tough. The weather had deteriorated a bit, and a cold mist was upon the fell. The distance to the next checkpoint seemed to be infinite, the featureless landscape and disorenting array of torch beams on the fell distracting me from the task of one foot in front of the other. Eventually, we trudged into view of the fence corner that marked the checkpoint location, and morale rose once more, helped by a second sandwich.
Another checkpoint nearby was dispatched swiftly and things seemed to be looking up. However, fatigue and a confusing fence-corner-path combination resulted in disorientation and some circling trying to find the next one. After persevering for a while to no avail, we decided to bin it off and crack on to the next one, which was practically on the slight path we had found. The next two came easily (a slight downhill helped a lot) and we found ourselves passing a big conga line of people on which boosted our spirits a lot. The dip in form was over; we were now on the way home with around 2 hours to go till we timed out.
After following a bridleway (the difference this surface made to our speed was unreal: it felt like running on one of those assisted walkways you get in airports) to the top of a hill and another point, we helped ourselves to trail mix and decided on our final checkpoints. Time to give it everything and grit our teeth. The last one was at the top of a small final hill and, after passing this, we legged it down the other side, heading back towards the stile where the night had begun. As I arrived, I spotted Mim and Louisa absolutely caning it just ahead, and shouted after them.
'Can't stop, we have 10 minutes to get back in time!'
They were 3 minutes late, resulting in a 3-point penalty (the penalty increased exponentially after 5 minutes).
Mentally, I always feel strong as I come to the end of a challenge. The knowledge that it will soon be over drives me forward more and more to get the most out of myself in the final moments. So as we hobbled into the finish area and got our free breakfast vouchers (yum), I was slightly disappointed it was over and felt like I could have maybe given more. Maybe… but who cares, we had completed the race and therefore had already surpassed our expectations from a few days ago. Very favourable weather conditions had certainly helped, along with Emmott's secret navigational expertise. As it turned out, we all did better than expected: Louisa and Mim won a trophy, and Holmes and BJ came second. This despite Holmes looking almost rougher than he had when he drank that parafin: blue lips, barely able to stand, overall pretty groggy. Good effort.
I crashed completely in the car on the way back to Sheffield, but a rehydration pack and a big plate of vegetables soon sorted me out once we were back.
---
So, what had I learned from the experience? I don't usually bother with introspective drivel like this, but this time I think I did learn a lot from taking part. First, it's really important to have friends that stoke you up for stuff like this. Keep your friends, and value them. Second, people you know well can easily surprise you with hidden abilities (such as Lydia later discovering she had done the race with a broken toe). And finally, try new things, especially if you aren't sure what the outcome will be. Otherwise you really won't learn anything. Looking forward to the next one.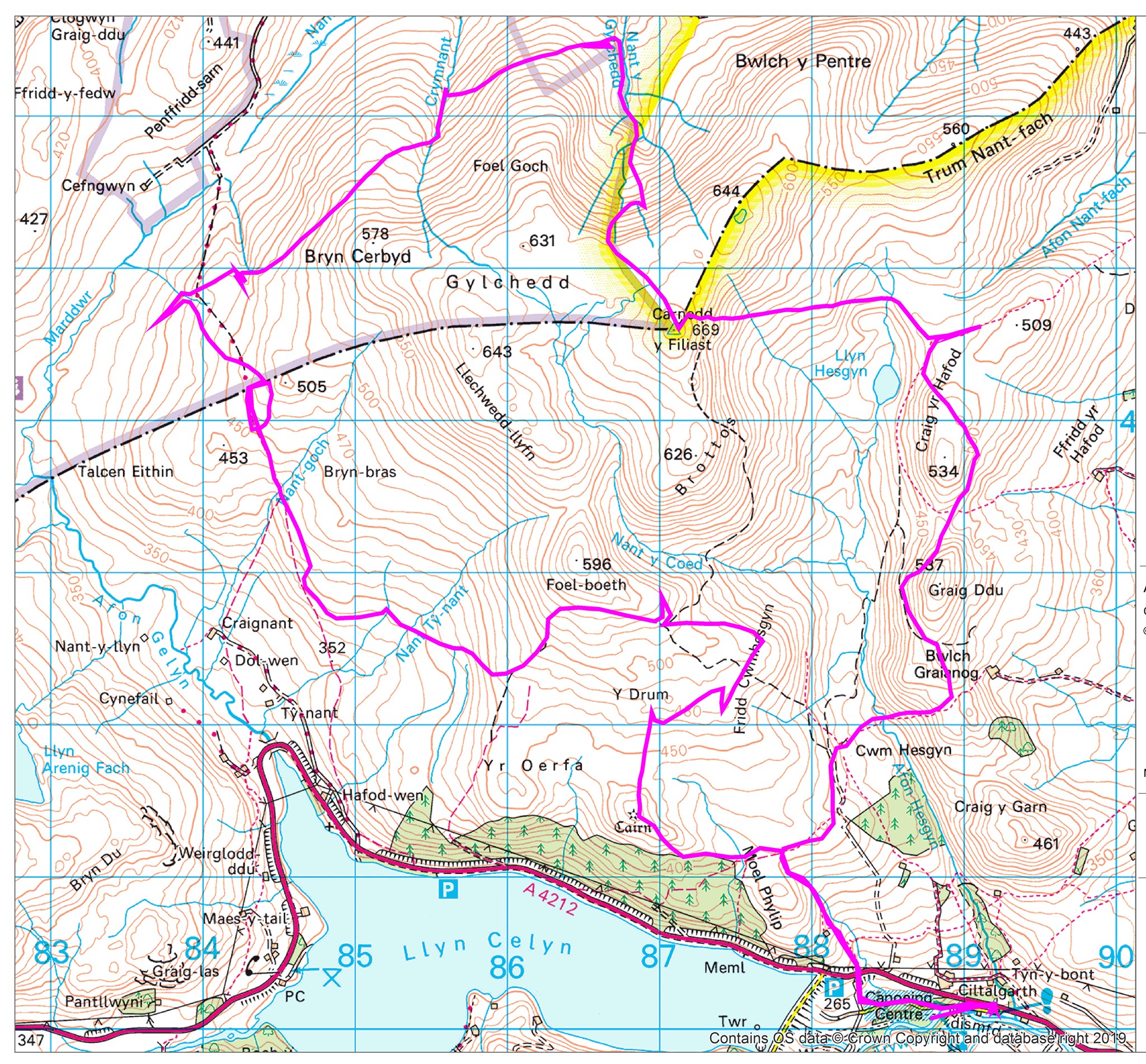 Where we actually went.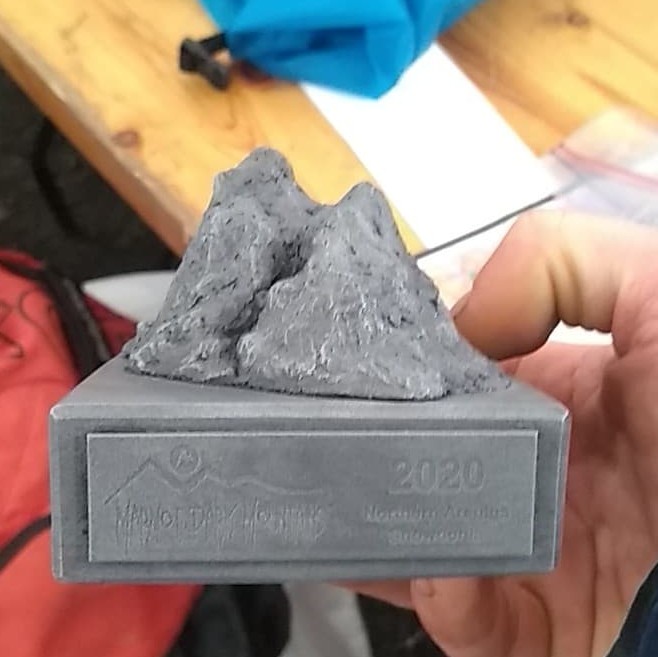 Oh yeah, we won a trophy as well.
Written on April 24, 2020